PerfectBlack
Our PerfectBlack®Plus Nano Ceramic Coated Steel Impression Cylinder jackets are the finest in the world designed to meet high tolerances required for today's most critical print jobs, to produce the highest print quality and deliver unequaled durability. PrintGuard Manufactures PerfectBlack®Plus jackets for all press models, including Heidelberg, Komori, Mitsubishi, Akiyama and others. For Printers with UV/HUV press models or conventional press models to be converted to UV/HUV, Printguard offers Stainless Steel film backed Impression Cylinder jackets at very attractive pricing. Laminated/Film backed jackets reduce installation time and cost, while providing required thickness for proper fit and registration to achieve high quality printing. Printguard also employs a network of certified, qualified mechanic to perform installation on all press models offering significant program cost savings.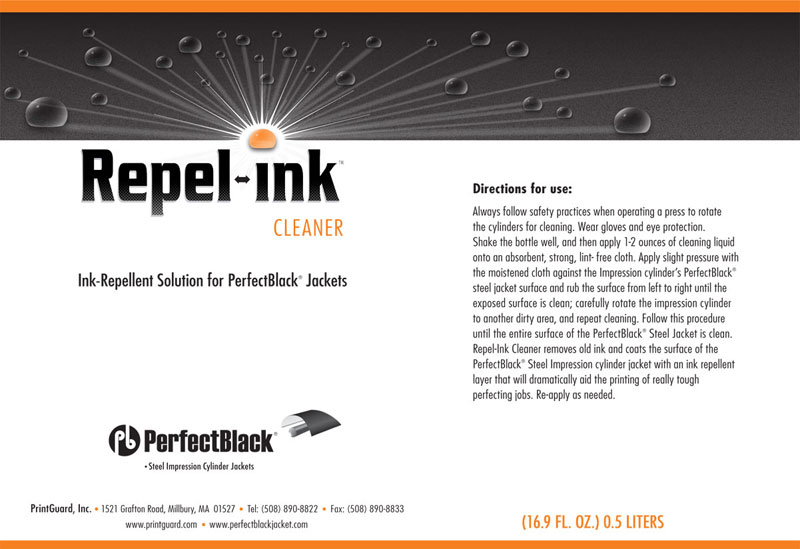 FAQs
1. I purchased a PrintGuard jacket for my SM102 press, what is the best way
to clean and maintain the jacket?
For best results, use an absorbent, lint-free cleaning cloth moistened with a mild water based/miscible press wash, diluted 50% with water. Use uniform light pressure to remove wet ink. Check Antimarking Products on this site for jacket installation, care and maintenance instructions.
2. We have a GTO52 and an MOV26 press, how do we determine the optimal size of the Antimarking jacket?
Check the how to measure instructions for GTO52 and MO26 in the Antimarking Products section on this site.
3. I need a replacement Net for an old Super Blue Net. Does PrintGuard supply Nets?
Yes, we now manufacture Orange Nets which are direct, cost effective replacements for Super Blue Nets. We offer Flat nets and Wavy Nets to perfectly fit any press size.
4. I have a ripped black base jacket which needs to be replaced, does PrintGuard supply replacement base jackets?
Yes, we manufacture a proprietary base jacket to fit most Heidelberg presses.
5. Why should I switch from Paper to Film?
Paper is alive, shrinks and expands with humidity and cannot be washed, glass beads fall off. We recommend our F100R/F300R (Regular small and large glass bead film) Very smooth, uniform glass bead size, easy to clean, glass beads permanently bonded to film with mild ink repellent.